CS aerotherm 39mm X 25mm Bush for SMH100/125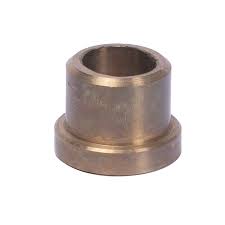 CS aerotherm 39mm X 25mm Bush for SMH100/125
CS aerotherm 39mm X 25mm Bush for SMH100/125
---
Taking advantage of the growing consumption of baked products in the domestic market , we CS aerotherm stepped in to the commercial bakery equipment domain, in the year 1997, with a long-term technical collaboration with FN Aerotherm, Denmark to manufacture rotary-rack (B-900 and B-1300) and electrical deck-ovens and most advanced Diesel, Gas, Electric Rotary Rack ovens. Today our product range not only meets the demand of domestic clients but also find their way to highly satisfied clientele in countries of Indian sub continent, Middle East and Africa. For the expanding domestic and international client database, our brand 'CS Ovens' stands for quality , variety and dependability.
---
---

Bush suitable for SMH-100/125 mixer.
It has a dia of 39 mm x 25 mm.
It is made of Phosphorous Bronze metal alloy which provides an optimum finish. 
Addition of tin and phosphorus provides the material with improved strength, corrosion resistance, and wear resistance compared to pure copper. 
This makes phosphor bronze an ideal choice for manufacturing bushings
It has high strength and is extremely durable.