LAPP 1119404 OLFLEX Classic 110 2.5mm Control Cable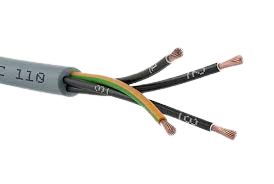 LAPP 1119404 OLFLEX Classic 110 2.5mm Control Cable
LAPP 1119404 OLFLEX Classic 110 2.5mm Control Cable
---

LAPP India started operations in India in 1996 by setting up state-of-the-art manufacturing unit at Jigani, Bangalore. In 2012, LAPP India set up its second manufacturing unit at Pilukedi, Bhopal to primarily produce single core cables catering to the Building segment. LAPP India further expanded our production capacity in 2014 by doubling the production area in Jigani and adding a new multi core line in Bhopal with a total investment of over 5 Million Euros. Today, we are the third largest manufacturing facility of LAPP. Each year, we manufacture 130,000 km of control, instrumentation, power and data cables along with connectors, accessories and End to End Systems.
---
---
ÖLFLEX CLASSIC 110 cables are VDE approved power and control cables for occasional flexible use and fixed installation for medium
mechanical load conditions. They are also suitable for use in dry, damp or wet areas. If using outdoors, observe the indicated temperature
range and use with UV protection. They are largely resistant to acids, alkalis and certain oils at room temperature.
ÖLFLEX CLASSIC 110 cables are limited suitable for free and continuously recurring movements. The maximum tensile load is 15 N/mm²
of conductor cross-section during installation and operation. Compulsory guidance is not permitted.
Application range:
As power- and connecting cable for control systems in machine tools, plant engineering and construction, industrial machinery, conveyor
systems, production and assembly lines as well as in measuring and control technology and data processing systems. 
145 standard articles with 2-100 cores in standard lengths and individual cuts are available.
Space-saving due to reduced wall thicknesses.
High electrical safety thanks to 4000 V test voltage.
Oil resistance according to DIN EN 50290-2-22 (TM54).
VDE-tested quality.