Duplex Thermocouple K Type Diameter 6mm Length 200mm 3.5 mtrs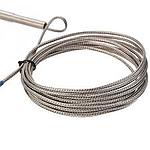 Duplex Thermocouple K Type Diameter 6mm Length 200mm 3.5 mtrs
K Type Diameter 6mm Length 200mm Thermo couple 3.5 mtrs
Brand

:

Duplex Devices Pvt Ltd
---
DUPLEX DEVICES Pvt.Ltd , was started in the year 1998 with an AIM of producing the State of the Art Temperature Sensors / Thermo Couples and Instruments.

DUPLEX has one of best design competencies in India, and is known for the quality and reliability of its products. Its manufacturing facilities in Bangalore is ISO 9001:2008 certified. We have been manufacturing quality Temp. Sensors at our factory since almost A Decade and half now .

From BTD's , RTDs / THERMOCOUPLES to DATA LOGGING systems , DUPLEX provides a one-stop solution that simplifies your sourcing in many applications.
---
---
These thermocouple temperature probes have a durable construction and feature a stainless steel mineral insulated flexible sheath that can be bent and formed to suit a wide range of applications. The thermocouple has an insulated hot junction for a reduction in electrical interference. 

| | |
| --- | --- |
| Brand | Duplex |
| Probe Diameter | 6mm |
| Thermocouple Type | K |
| Probe Length | 3.5 mtr |
| Probe Material | Stainless Steel |