Duplex Thermocouple K Type Diameter 6mm Length 200mm 5 mtrs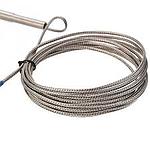 Duplex Thermocouple K Type Diameter 6mm Length 200mm 5 mtrs
K Type Diameter 6mm Length 200mm Thermocouple 5 mtrs
Brand

:

Duplex Devices Pvt Ltd
---
DUPLEX DEVICES Pvt.Ltd , was started in the year 1998 with an AIM of producing the State of the Art Temperature Sensors / Thermo Couples and Instruments.

DUPLEX has one of best design competencies in India, and is known for the quality and reliability of its products. Its manufacturing facilities in Bangalore is ISO 9001:2008 certified. We have been manufacturing quality Temp. Sensors at our factory since almost A Decade and half now .

From BTD's , RTDs / THERMOCOUPLES to DATA LOGGING systems , DUPLEX provides a one-stop solution that simplifies your sourcing in many applications.
---
---
The Duplex Thermocouple K Type is a high-quality temperature sensing device designed to meet the demands of various industrial applications. With a diameter of 6mm and length of 200mm, this thermocouple is perfect for measuring temperatures in a wide range of environments. It is built with superior quality materials to ensure high accuracy, reliability and durability.The Duplex Thermocouple K Type is a dual element sensor designed to measure temperature at two different points, allowing for more accurate and reliable temperature measurements. It is constructed with premium-grade materials that can withstand harsh operating conditions and deliver precise temperature readings.
The 5 meter length of this thermocouple allows for easy installation and placement in hard-to-reach areas. It is compatible with a wide range of temperature controllers, ensuring ease of use and flexibility in a variety of applications.Whether you need to measure temperature in a chemical processing plant, an industrial furnace or any other harsh environment, the Duplex Thermocouple K Type is a reliable and accurate temperature sensing solution that will deliver accurate readings and withstand the toughest conditions.