CS aerotherm BGMNRV-1/2'' 1/2"Gun Metal Non Return Valve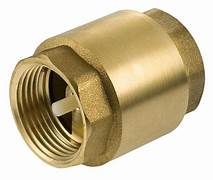 CS aerotherm BGMNRV-1/2'' 1/2"Gun Metal Non Return Valve
CS aerotherm BGMNRV-1/2'' 1/2"Gun Metal Non Return Valve
---
Taking advantage of the growing consumption of baked products in the domestic market , we CS aerotherm stepped in to the commercial bakery equipment domain, in the year 1997, with a long-term technical collaboration with FN Aerotherm, Denmark to manufacture rotary-rack (B-900 and B-1300) and electrical deck-ovens and most advanced Diesel, Gas, Electric Rotary Rack ovens. Today our product range not only meets the demand of domestic clients but also find their way to highly satisfied clientele in countries of Indian sub continent, Middle East and Africa. For the expanding domestic and international client database, our brand 'CS Ovens' stands for quality , variety and dependability.
---
---
1/2"Gun Metal Non Return Valve
The 1/2" Gun Metal Non Return Valve is a vital component designed to regulate the flow of fluids in one direction, preventing backflow and ensuring fluid movement in a controlled manner. Constructed from sturdy gunmetal, this valve is built to withstand corrosion and wear, ensuring reliability even in harsh conditions. Its 1/2-inch sizing allows it to integrate seamlessly into various piping systems. Whether used in plumbing, industrial, or commercial setups, the 1/2" Gun Metal Non Return Valve offers efficient fluid control, enhancing system efficiency and safety. With its durable design and one-way flow mechanism, this valve plays a crucial role in preventing contamination and maintaining the integrity of fluid systems.