Benmac Machines BM-1000 IS High Speed Conveyor Slicer Cutting Blade
Benmac Machines BM-1000 IS High Speed Conveyor Slicer Cutting Blade
Benmac Machines BM-1000 IS High Speed Conveyor Slicer Cutting Blade
---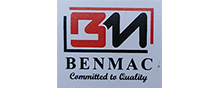 Benmac Machines are one of the leading manufacturers of wide range of Automatic baking machine. Our offered machines are acknowledged for their durability, immaculate designs and reliable performance.
---
---
Benmac High Speed Conveyor Slicer Cutting Blade. 
Dimensions-  0.5 mm x 10 mm x 273 mm.
Material- HSS
Suitable for Benmac Slicer Model No: BEM1000IS
The High Speed Conveyor Slicer Cutting Blade is an intricately designed component tailored for efficient slicing applications within conveyor systems. Engineered with precision, this cutting blade is optimized for high-speed operations. Featuring a specialized design, it ensures swift and precise cutting of materials as they move along the conveyor.

Crafted to meet stringent performance requirements, the cutting blade boasts advanced materials and expert craftsmanship. With its focus on high-speed functionality, it excels in rapid and accurate slicing processes. The specialized design of the blade's edge enhances its cutting efficiency while maintaining durability.

Incorporating the High Speed Conveyor Slicer Cutting Blade into conveyor systems enhances productivity in industries such as food processing, packaging, and manufacturing. Its ability to seamlessly integrate into high-speed setups while delivering precise cuts highlights its role in optimizing production workflows.
| | |
| --- | --- |
| Dimensions ( T x W x L ) | 0.5 x 10 x 273 |
| Material | HSS |
| Color | White |