Jai Balaji JB 2700 Heavy Duty Limit Switch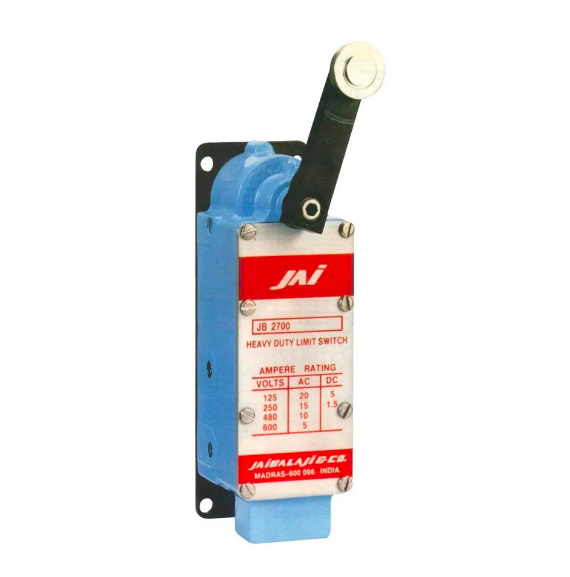 Jai Balaji JB 2700 Heavy Duty Limit Switch
Jai Balaji JB 2700 Heavy Duty Limit Switch
---

Jaibalaji Control Gears Private Limited is a global manufacturer of industrial switches and controlgears with an extensive range of products catering to engineering industries.

Our wide range of products are Illuminated Push Button Switches & Pilot Lights, Push Button Junction Boxes, Push Button Stations, LED Module Indicating Lights, Cam Operated Rotary Switches, Proximity Sensors, Electronic Timer Din Rail (Analog & Digital), LED Signal Tower Lights, Limit Switches, Miniature Snap Action Micro Switches, Engineering Plastic Industrial Plug & Sockets and Telescopic Brushes.

Jaibalaji has established a global reputation for being an expert partner for Human Machine Interfaces and all our products are developed by world-class industrial specialists and tested to international standards. They are synonymous with Jaibalaji reputation for creativity, innovation and excellence.
---
---
JB 2700 Heavy Duty Limit Switch. These Limit Switches are tailored to meet today's rugged requirements. Besides covering all functional requirements, this line of Limit Switches are designed to meet every installation need. These Switches provide reliable "Machine-life" Service and have the stamina to operate under the unusual conditions.

Multiple Contacts - DPDT (2 NO-2 NC)
Generous Overtravel and Bypass.
Heavy Duty Cam Operated
Flexibility Of Motion ( clockwise and counter clockwise)
Light Oprating Torque
Interchangeability of Cams.
Fast Contact Action
Ample Wiring Space
| | |
| --- | --- |
| Switch Type | Lever Limit Switch |
| Pole Throw | DPDT |
| Switch Configuration | Both |
| Rated Voltage | 240 VAC |
| Usage/Application | Industrial |
| Model Name/Number | JB 2700 |
| Current Rating | 20A |
| Brand | Jai Balaji |
| Operating Torques | Trip Torque varies from 6.804 (to) 14.968 KLS depending on switch size and cam selected. |
| Standard Temperature Range | 200 to + 110 Degree Celsius |
| Contacts made of silver alloy | Contact shifting mechanism is locked in position by the latches until switch lever is actuated. |