UNOX XEBC-10EU-E1RM Countertop Combi Oven
UNOX XEBC-10EU-E1RM Countertop Combi Oven
UNOX XEBC-10EU-E1RM Countertop Combi Oven
---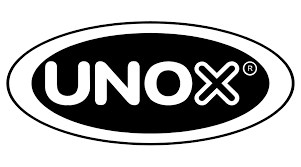 Founded in 1990, Unox has over the years become the leading Italian manufacturer of professional ovens, combining the expertise of thousands of cooking professionals from all over the world with its technical knowledge, specific industrial skills and every-day passion and dedication.
Today Unox is a symbol of "Made in Italy" for thousands of professionals and operators in gastronomy, pastry and bakery in more than one hundred countries worldwide.
---
---
Countertop ONE is the combi oven for pastry and bread making: perfect and uniform baking with any food load. Intuitive programming and possibility to memorize 364 cooking processes. Technologically advanced combi oven for fresh or frozen baking processes and for gastronomy cooking processes (dehydrating, steaming, low temperature baking, sous vide cooking, roasting, grilling, pan frying, regeneration and plate regeneration) thanks to Unox Intensive Cooking and Intelligence Performance technologies which guarantee perfect results and repeatability for any load size. Automatic management of cooking processes (CHEFUNOX) for perfect results even without a trained staff.
| | |
| --- | --- |
| Type | Commercial Countertop Combi Oven |
| Trays / Tray Size / Distance between Trays | 10 Trays / 600 mm x 400 mm / 80 mm |
| Panel | 9.5" Touch Control Panel |
| Dimensions | 860 mm x 967 mm x 1162 mm |
| Voltage / Frequency | 380-415V 3N~ / 220-240V 3~ / 50 Hz |
| Power | 14 kW |
| Weight | 136 Kg. |