Omron Z-15GW22-B Limit Switch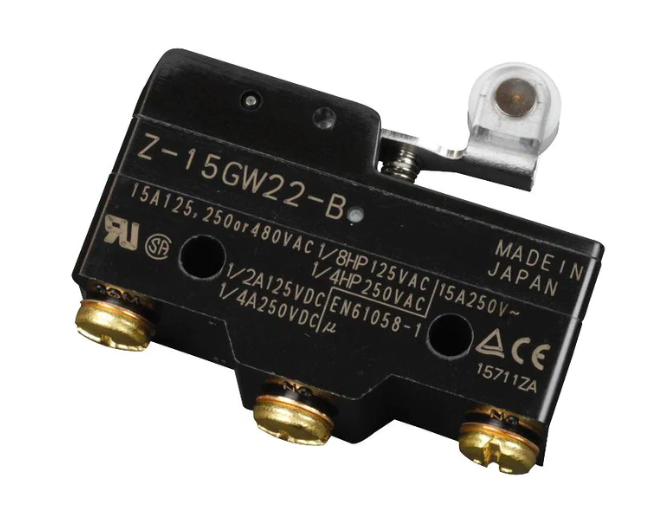 Omron Z-15GW22-B Limit Switch
Omron Z-15GW22-B Limit Switch
---
As a global leader in the field of automation, OMRON's business fields cover a broad spectrum, ranging from industrial automation and electronic components to social systems including automated ticket gates and solar power conditioners, healthcare. At present, OMRON provides products and services in around 120 countries and regions.
---
---
Z-15GW22B is a Microswitch, Standard, Hinge Roller Lever, SPDT, Screw, 15 A, 250 V product from OMRON INDUSTRIAL AUTOMATION.

Z-15GW22-B is a high-quality safety switch designed for industrial use. It is made with precision and accuracy to ensure reliability and safety for workers and machinery. The switch is designed to detect the position of the guard, making it an essential safety measure for industrial equipment that may have moving parts or areas where injury can occur.The Z-15GW22-B limit switch is easy to install and comes with multiple contact options, making it suitable for a variety of applications. It has a durable construction that allows it to withstand harsh environments, ensuring long-lasting performance.
This safety switch is compatible with a range of machinery and is widely used in manufacturing plants, automotive industries, and other industrial applications. It is an ideal solution for ensuring safety in environments where safety is of paramount importance.The switch has been tested and certified to meet international safety standards, ensuring that it provides reliable and efficient performance. Its high accuracy and precision make it a reliable option for industrial safety.The Z-15GW22-B limit switch can be customized according to your specific requirements, ensuring that you get a product that meets your needs. So, if you're looking for a reliable and efficient safety switch, the Z-15GW22-B limit switch is an excellent choice.
| | |
| --- | --- |
| Microswitch Type | Standard |
| Microswitch Actuator | Hinge Roller Lever |
| Contact Configuration | SPDT |
| Switch Terminals | Screw |
| Contact Current Max | 15A |
| Contact Voltage DC Nom | 250V |
| Product Range | Z Series |
| Contact Voltage AC Nom | 250V |
| Operating Force Max | 1.57N |