Vessel 621657 CF-300-E Cross Flow Ionising Fan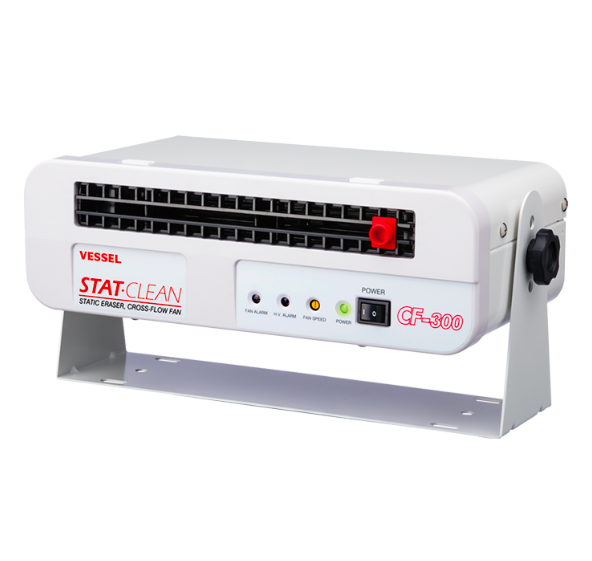 Vessel 621657 CF-300-E Cross Flow Ionising Fan
Vessel 621657 CF-300-E Cross Flow Ionising Fan
---
VESSEL is a leading fastening tool manufacturer. Our Founder's Policy of "singleness of purpose" has been passed down to the present day, its undiminished relevance apparent in our dedication to the principles of high quality, fair pricing, new product development, and customer satisfaction.
---
---
CF-300-E Cross Flow Ionising Fan
* Superior ionizing performance accomplished with the cross flow fan that sends out ions evenly and widely on the wind and the front cover design that takes the ion flow into consideration. Volume operation allows the non-step adjustment of wind flow.
* Slide-type cleaning brush is mounted on the front cover to perform maintenance of needle electrodes at any time. On the bottom surface of the main body, a rough filter is used, which is easy to clean and replace.
* Monitoring functions of fan motor rotation monitoring function and high voltage output shut-down function.


Ionizing method: AC High frequency corona discharge.

Dacay time (sec.): Within 1.5 sec

Ion balance: Within +/- 10V

Item PKG (mm): 365 mm x 245 mm x 125 mm

| | |
| --- | --- |
| Model | 120R-E |
| Body Size ( mm) | 348 mm x 165 mm x 157 mm |
| Weight | 2900 gms |
| Applied Voltage | AC9.2kV(p-p) |
| Power Supply | DC24V +/- 10% |
| Current consumption (mA)typ. | 500 |
| Current consumption (mA)max. | 500 |
| Noise level (dBA) | 48 |
| Fan speed (max)(m3/min) | 2.5 |
| EDP No. | 621657 |