Vessel 621651 F-120R-E Ionizing Fan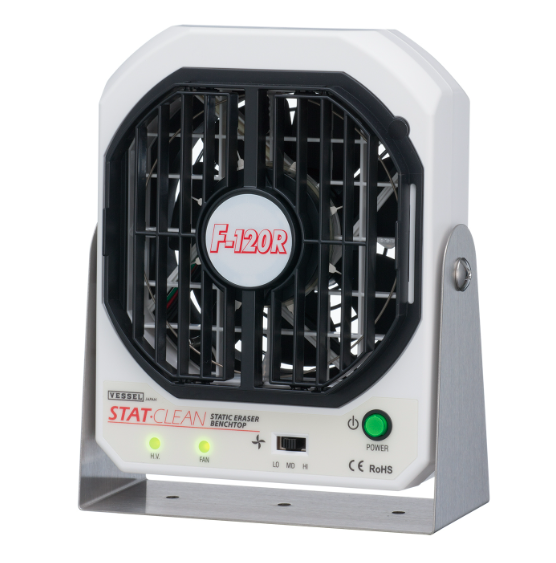 Vessel 621651 F-120R-E Ionizing Fan
Vessel 621651 F-120R-E Ionizing Fan
---
VESSEL is a leading fastening tool manufacturer. Our Founder's Policy of "singleness of purpose" has been passed down to the present day, its undiminished relevance apparent in our dedication to the principles of high quality, fair pricing, new product development, and customer satisfaction.
---
---
A wide selection of models and delivering ions with fan.

* Newly developed piezoelectric transformer makes the slim and compact model.
* Butterfly louvers for changing the wind directions.
* Fan speed can be adjusted in three steps.
* Improvement in maintenance by easy-replaceable electrode needle unit.
* Equipped with terminals for alarm signal output, convenient for incorporation into equipment.
* F120S-E is a silent type with mild airflow.
Ionizing method: Piezoelectric high-frequency

Dacay time (sec.): Within 1.5 sec

Ion balance: Within +/- 10V

Item PKG (mm): 295 mm x 225 mm x 115 mm

| | |
| --- | --- |
| Model | 120R-E |
| Body Size ( mm) | 198 mm x 162 mm x 69.5 mm |
| Weight | 900 gms |
| Applied Voltage | AC10kV(p-p) |
| Power Supply | DC24V +/- 5% |
| Current consumption (mA)typ. | 700 |
| Current consumption (mA)max. | 700 |
| Noise level (dBA) | 55 |
| Fan speed (max)(m3/min) | 3.66 |
| EDP No. | 621651 |