Vessel 621639 N-1 Super Slim Ionizing Nozzle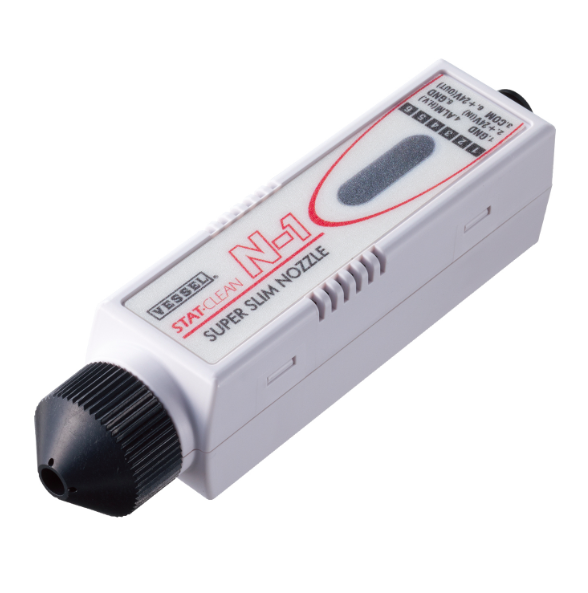 Vessel 621639 N-1 Super Slim Ionizing Nozzle
Vessel 621639 N-1 Super Slim Ionizing Nozzle
---
VESSEL is a leading fastening tool manufacturer. Our Founder's Policy of "singleness of purpose" has been passed down to the present day, its undiminished relevance apparent in our dedication to the principles of high quality, fair pricing, new product development, and customer satisfaction.
---
---
N-1 Super Slim Ionizing Nozzle.
Responding to diverse applications by pinpoint static elimination and a wide choice of nozzle options.

* Compact design permitting placement anywhere and in any direction. Newly developed high-voltage transformer and control circuit enables unprecedented ease of use to be realized.
* Screw type nozzle is removed easily, making both nozzle replacement and cleaning of the needle electrode easy.
* Equipped with six-pole terminals enabling an abnormally high-voltage signal to emit or 24 V DC power to be daisy-chained.
* Blue lamp lights up during normal operations. When errors occur in high voltage, a red lamp flashes.

| | |
| --- | --- |
| Model | N-1 |
| Body Size ( mm) | 109.6 mm x 28 mm x 27.5 mm |
| Weight | 80 gms |
| Applied Voltage | AC5kV(p-p) |
| Power Supply | DC24V +/- 5% |
| Noise Level (dBA) | 96 |
| Air Consumption (L/min) | 219 |
| Ionizing Method | Piezoelectric high-frequency |
| Dacay Time (sec.) | Within 1 sec. |
| EDP No. | 621639 |